Welcome to Hang 1 picture framing and fine art installation service
There are many ways to hang art but the three primary methods of installation used by Hang 1, are hook & wire, AMS security hanging system and the french cleat. Details of these systems are outlined in the attached diagrams. If you are considering Hang 1 for a professional art installation at your home or office, please read the pre-install question-aire. This document provides current install rates, as well as "other" issues which could affect the rate charged for your installation. Also included, are the types of questions that the Hang 1 installer will ask before scheduling your install. These details are very important, as every installation presents it's own unique challenges. Thank you for your cooperation.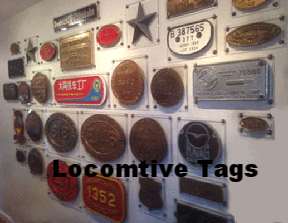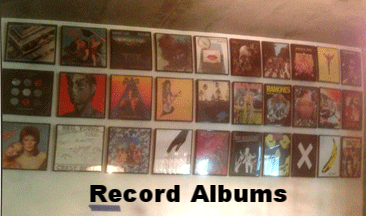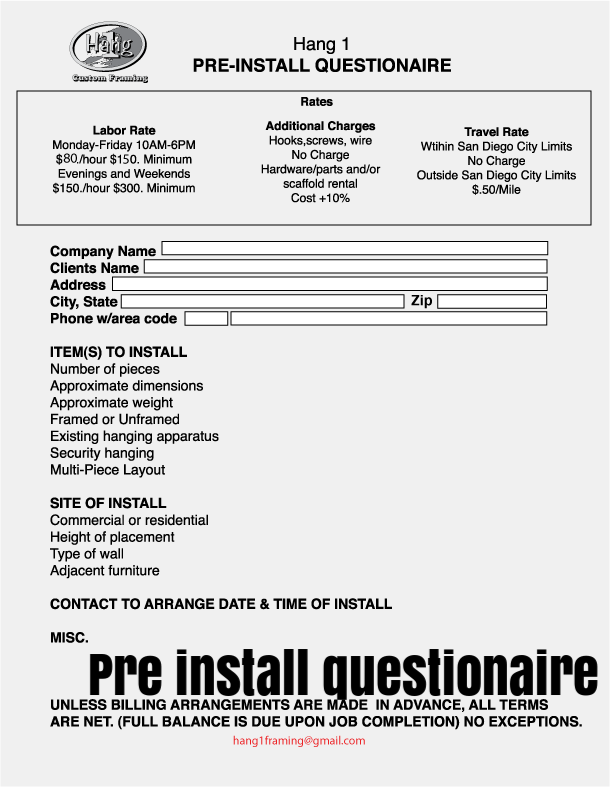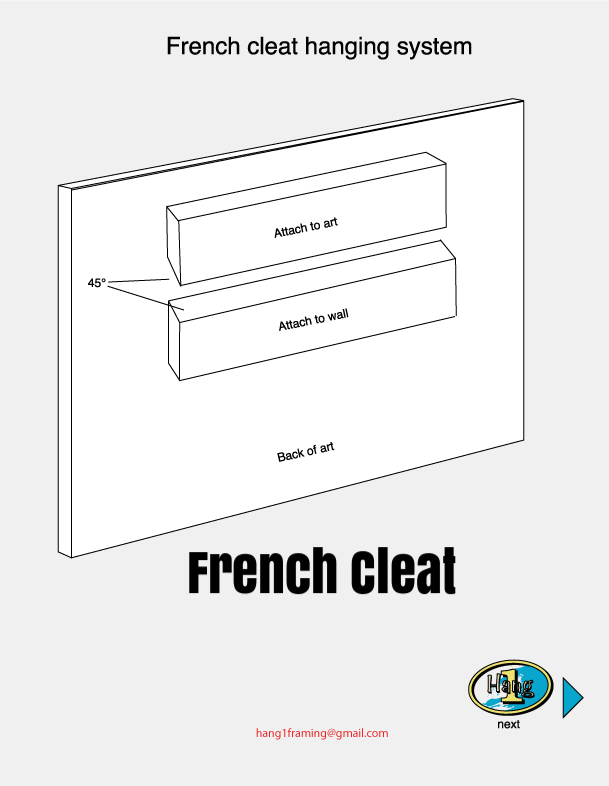 LARGE FORMAT GRAPHICS
Jackrabbits to Jets
"Jackrabbits to Jets" is a 4'X68' mural designed and created by Hang 1 to commemorate the 100 year anniversary of naval aviation. Located in the air terminal at NASNI (Naval Air Station North Island). The piece was constructed using printed vinyl, mounted to 1/2" Gatorboard and stacked three deep to give the silhouetted shapes in the background more definition. This photo is a small section.
OBJECT BOXES
3-D historical displays
Object and acrylic boxes are two distinctive and differing options to display art and/or graphic presentations. Generally speaking, three dimensional objects should be presented in the object, or acrylic box. The object box utilizes a deeper frame moulding fit with glass or acrylic. An acrylic box is a fabricated plastic box which covers the art providing a "cleaner" aesthetic. Two dimensional graphics can also be created in a computer, printed to vinyl and incorporated into the boxes. If you are considering these options to present or archive your art, you should consult a Hang 1 design professional. We look forward to speaking with you, preserving your keepsakes, and bringing your vision to life.
CUSTOM FRAMING
Framed and archived photographs
The custom framing options available at Hang 1 are as limitless as your imagination. With over 10,000 frame samples, and just as many matting options, it's easy to find a unique and beautiful framing solution for your fine art project. At Hang 1, we like to make your experience knowledgeable and fun. A Hang 1 design professional will be at the design counter to assist you through the entire process. For those experienced with custom framing, we are there to provide assistance through the design process and insure that you receive the finest product at the best price. For those inexperienced, we work with you to provide all of the information that you need to make an informed decision which best fits your lifestyle as well as your budget. Please feel free to call anytime and speak with an experienced professional, and let us show what Hang 1 can do for you.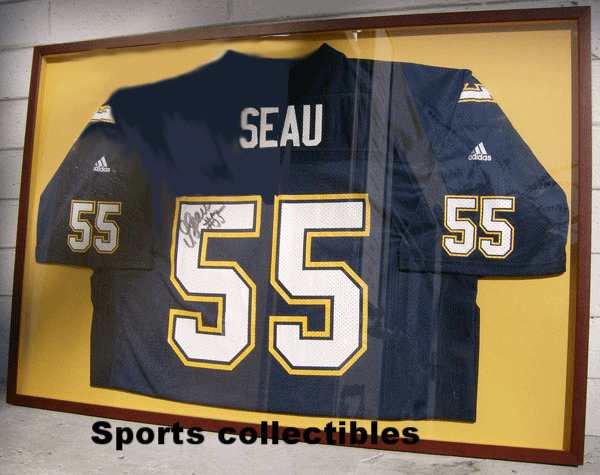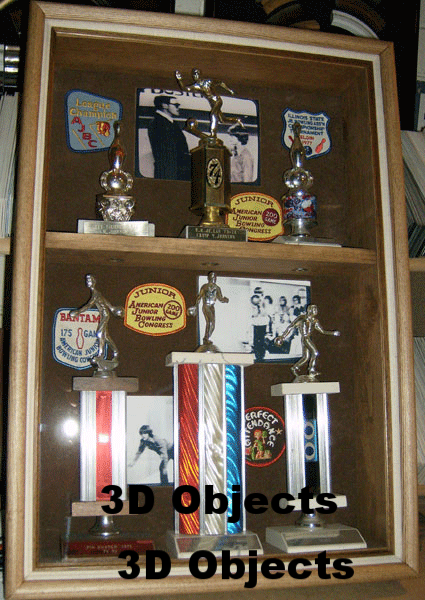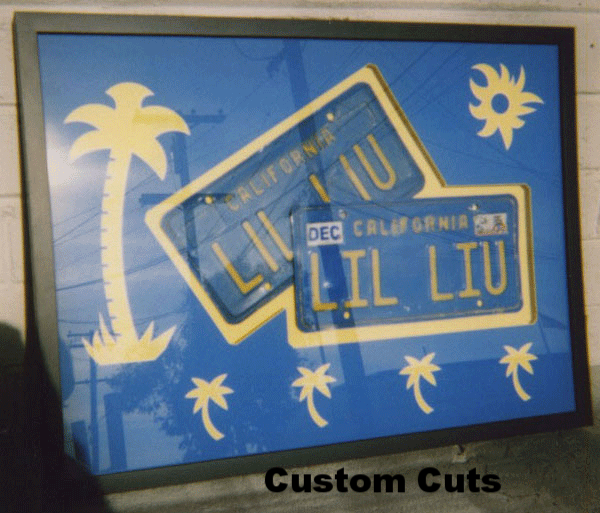 FAQ
How much does it cost to frame my picture?
The price to frame your art will depend on a number of factors including; Size, Style of Moulding, and Additional Product or Services.
 
Size
Generally speaking, larger costs more. The size will be determined by the size of the frame, not the size of the art. So, adding mats will add more to the cost, not only because of additional materials, but also because the size of the frame has increased. Also, most frame shops will use a pre-determined point at which a piece is considered "oversized". Usually this point is a frame size of 24"X36". This is because frame moulding is bought at the wholesale level in 10' length. Generally, a 24"X36" frame can be built from one 10' length of moulding. Anything larger is considered oversized. Oversized will increase cost at the wholesale level and, as a result, will increase the cost of your frame job exponentially.
Style of Moulding
Style of moulding that you choose for the frame. Hang 1 carries moulding styles from all over the world. Prices vary widely, and change often. Sometimes, an expensive style can be swapped with a similar, less-costly alternative. At Hang 1, the customer will always be shown all style choices available, and whenever possible, shown less costly alternatives.
Additional Products/Services
Adding additional products and/or services like mounting, stretching, matting, additional mat openings, fabric wraps, fillets and UV and/or non-glare glass or plex will also increase the price of the framing project
MILL & FINISH
Restaurant Art
This custom milled and finished double frame was created for a client interested in re-creating the look of steal but without the weight. This was the result, using a wood substrate, automotive paint and other finishes to accomplish the finished look. It was later security installed with AMS locking hardware on subway tile, in a public space.
"OTHER ART"
Video Production, Mixed Media on Canvas, Charcoal on Paper, Computer Illustration, Signage and more